Best Rubber Tile Installation Services in Key West, FL

Rubber is well known for its countless advantages and with these; it is now a common option for flooring. Rubber tiles are easy to install, affordable, and long-lasting. They are ideal for any work environment. It can either be in your home, in recreational spaces, commercial or high-end environments. Rubber tiles are best placed in rooms where you do not have to work in shoes. This type of flooring is beautiful and mostly suits areas where appearance is key.
Rubber tiles are made from synthetic rubber material, recycled rubber material, or natural rubber material. You can choose from a variety of thicknesses to density. Places with heavy activities like the gym require denser and thicker rubber tiles to reduce noise and also protect the floor from damage.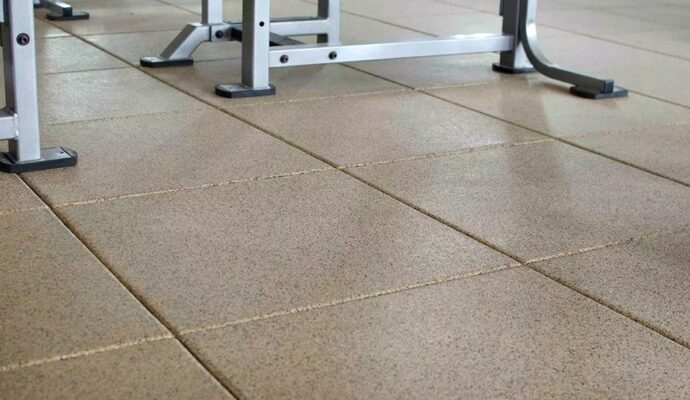 Key West Safety Services offer rubber tiles that come in a wide variety and selection of designs and colors. It is also easy to install because you can do it on your own at home (DIY) due to its interlocking design. A rubber tile usually comes in squares and can be cut according to your desired shape and mainly comes in a thickness of 8mm.
Here are the reasons why one should opt for this flooring method;
The Comfort and Convenience
Rubber is naturally tough, eco-friendly, and versatile. This makes it the best solution for playrooms, exercise rooms, or just in the house, especially in the basement. Rubber tiles have a performance characteristic that makes them pave the way to rooms where relaxation is needed.
Despite rubber's nature and appearance, rubber tiles are soft and comfortable to walk on. There is absolutely no noise while walking. This may be the main reason why it is well suited for recreational areas. Rubber tiles can be made thicker; this will make it even softer to walk on making it more comfortable. It offers the best cushioning underfoot.
Thick layers are mostly suited for outdoor activities while the thin layers are for indoor use. Rubber tiles for outdoor activities are made in a way that they are less sticky. Through vulcanization, mechanical properties and strength are improved.
Repair and Maintenance
Rubber tiles are easy to maintain and repair. They are also easy to clean; this is done by using a damp towel or mop depending on how large the area is. When it comes to stains, synthetic rubber is more stain-resistant compared to natural one. In case you are moving or want some change within that space, rubber tiles are easy to remove and store. Since rubber does not lose its shape and texture and color, you are able to reuse the rubber tiles.  In case of stains, you should contact professionals to know what kind of detergent to use.
If damage occurs, instead of replacing the whole of them, you are only required to replace the damaged one. Rubber tiles fit in each other like puzzles; this makes its installation fast and easy to do.
The Rubber Flooring Cost
They say cheap is expensive, why go for rubber tiles of poor quality that will not serve you as it is required? For premium rubber tiles, contact Key West Safety Services in Florida. We have a team of trained professionals who will gladly answer your questions and guide you where necessary. Good quality rubber tiles can be costly. It is wise that you check on the quotation with professionals and also the price of each tile and how many you will need in your desired space.
Rubber Tiles Installation
This type of flooring is certainly the easiest to install. There are two types of rubber tiles; those that use a system of edge pins to bind the tiles together and those that are installed by interlocking. Rubber tiles come in a square shape but this does not limit one to cut them to fit the space or acquire the desired shape perfectly.
This type of flooring is getting popular rapidly. With the simple and easy installation process, you are able to get a unique design and a perfect finish for surfaces that do not slip. Rubber tiles are resistant to both water and moisture. It cannot be easily affected but while installing it in spaces like the basement; you will have to include a vapor barrier to hold in the moisture from below the surface. This helps in keeping the tiles warm and maintain their original smell. Some rubber tiles come as a complete package, they are made in a way that they can withstand wet conditions and environments.
Design
One can choose rubber tiles from a wide variety of textures and colors available at Key West Safety Services. Some years back, the only rubber flooring options were mostly slate gray and black, but now, you can choose from a range of colors. Your taste and choice will determine what you buy; there is no limitation when it comes to color and texture.
Rubber tiles are resilient and extremely durable; they provide good grip, guarantee stability, and can withstand heavy impact activities like in the gym. The seams of the rubber tiles are very tight so the floor will look sleek and cohesive, with no edges to trip over. When it comes to designing rubber tiles in wet areas, always ensure that you get the sheet products that are a way better choice.
Those who make rubber tiles can add some ingredients for customization purposes to achieve a certain need or design. When it comes to your safety, go for rubber tiles that do not contain PVC materials.  With the readily available textures and designs, matching your tiles with your deco has been simplified.
Durability
Rubber tiles can withstand massive weight, force, or even footwork traffic. These tiles can last for a very long time without getting damaged. If manufactured with quality products, rubber tiles can last for ages without losing their sheen or strength. They are of low maintenance.
Below is our list of additional services: