Best EPDM Rubber Installation Services in Key West, FL

EPDM as it is commonly known stands for Ethylene Propylene Diene Monomer. This rubber gets its name from the monomers that are usually combined in measures that form it. Due to the EPDM cross-linking composition, this rubber gives durability, resilience, and flexibility. Its outstanding properties make it the best when it comes to resistance in aging and elasticity. 
EPDM rubber has numerous applications namely; non-slip coatings for playgrounds and decks, door and window seals of vehicles, cold rooms, and many more. EPDM rubber which is also a synthetic rubber can withstand variations in temperature and is also flexible.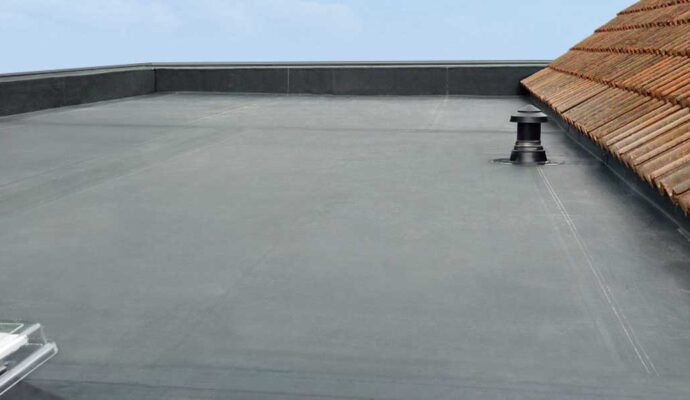 When it comes to roofing, this rubber is an incredible choice. It has both elastic and viscous properties. Its main components are propylene and ethylene which come from natural gas and oil.  Rubber has been in use in various applications for centuries. During the 20th century, synthetic versions began to be manufactured. Natural rubber can break and crack under extreme conditions like weather and heat. However, the synthetic alternatives could be engineered to possess different qualities, and therefore tailored for various purposes.
EPDM Rubber in Roofing
This is a monolayered rubber membrane that is used in combination with thermal insulation and vapor barriers and with accessories like pipes and gravel guards, vegetation, and green roofs. It can also be used with vegetation, drainage, and green roofs. Key West Safety Services, EPDM rubber is mainly used in the low-pitch roofing industry. Its sheeting also has a thickness and a consistent application to the whole roof at large.
EPDM rubber for roofing is available in the modern market in rolls with an adhesive applied on one side. The applied tape is usually rolled with enough pressure to get a straight and flawless look that will definitely not fall. This type of roofing has paved its way from indoors to the outdoors.
EPDM rubber roofing is highly resistant to wear and tear and flexible due to its high tensile strength. It can survive in any environment, hot or cold. The rubber roofing is also a good protector from the harsh UV rays and also the ozone. When it comes to roofing, EPDM rubber is unmatched, certainly the best material suited for roofing.
It has a number of benefits making it ideal for commercial buildings, RV's, residential areas, and many more. EPDM roofing membranes are mainly available in white and black though more colors can be obtained by certain manufacturers.
When the temperature rises or lowers, the rubber roof does move. Therefore, the EPDM liquid rubber helps in keeping it in place or stretches in a way that it can move thrice its usual length and width. This rubber roofing is certainly the best and most suitable solution for any building. EPDM rubber neither cracks nor breaks from extreme moisture or dryness. It does not let heat, water, or any other elements inside but allows heat and vapor out from the buildings.
EPDM rubber has a number of beneficial factors that are mainly environmentally safe. Get an in-depth understanding of its benefits before going for it. Below are the advantages of using EPDM rubber.
EPDM Rubber is Flexible and Durable
EPDM rubber is highly resilient compared to traditional rubber. It does not crack or break especially around gutters and pipes because it is flexible enough to fit around them. It can withstand extreme moisture and dryness. EPDM rubber is permeable, easily retains moisture but allows heat and vapor out. It ranks at almost the top when it comes to roofing options.
 The molecules of EPDM rubber are usually tightly packed making it difficult for water and vapor to pass through. This makes it ideal for use in lining water and biogas tanks. As does the fact that, even over time, neither does it shrink or crack.
It is Recyclable
EPDM rubber membranes are mainly friendly to the environment. It commonly uses recycled products and it can also be recycled when its use is done. EPDM rubber is majorly manufactured in black color or white. This naturally helps in both reflecting and also allowing heat, therefore, decreasing the cost of electricity.
EPDM Rubber is Durable
When it comes to roofing, EPDM rubber is ranked as the most efficient product, the roofing majorly can last for more than a decade. It highly resists all weather conditions. EPDM rubber is tear-resistant, with high tensile strength. What sets EPDM at the top in terms of roofing is its suitability and the ability to withstand everything the environment can throw at it, hence its lifelong span. This is why EPDM rubber is the ideal option suited for roofing.
EPDM has Multi-purpose uses
EPDM rubber, when used as a waterproofing material for balconies and terraces, provides great opportunities for architects to soften the normal boundaries of building an envelope design. Providing soft edges, smooth surfaces, and a seamless transition between roof and walls.
Are you looking into making use of your roof space in an eco-friendly manner? Not only does a green roof look great, but it also helps to reduce noise pollution but also to save energy. Key West Safety Services, EPDM's membranes are ideal as waterproofing bases for green roofs, as they are factory-fabricated, long-lasting, and root-resistant.
EPDM rubber pond liner it's incredibly easy to create. Not only can the pre-assembled pond liners be installed fast and easily, but they'll last more than 3 decades. In addition, EPDM is leach-resistant and contains no toxic substances, so it's perfect for fish, plants, birds, and the associated wildlife.
Maintenance
EPDM rubber roofing, piping, and terraces generally require little or no maintenance. For instance, when it comes to your rubber roof, one is supposed to check on it every 2 to 3 months and also clean it. Professional maintenance and roof installation can be handy in getting your job well done.
EPDM rubber has various uses and applications. It is mainly used in waterproofing and roofing. This is a product with a rich history and strength. You can get EPDM rubber installations from our company at the most affordable rates if you need these services in Florida and other parts of the United States.
Below is our list of additional services: