Key West's Best Bonded Rubber Mulch Installation Services

This is one layer system made from 100% rubber. The surface is mainly bonded with a high-quality binder and this reduces displacement while in use. Bonded rubber mulch removes the need for constant remaking unlike its other counterparts like wood chips and sand. Key West Safety Services, bonded rubber is a perfect fit for a consumer who is seeking another option to loose-fill rubber mulch. Bonded rubber has a natural feel and austere feel on your surface with minimal maintenance.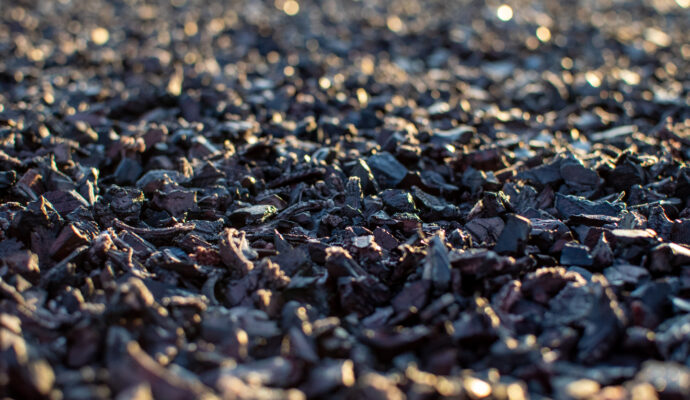 Bonded rubber mulch by Key West Safety Services is custom made. It is usually mixed and poured on the spot by our well-trained professional team. Bonded rubber mulch resembles wood chips but they are different in some way because rubber has a much more natural look. Bonded Rubber Mulch is protective flooring that is produced by shredding recycled tires. 
Bonded rubber mulch is a well-known choice for both recreational and playground surfaces. Over the years, it has received good reviews on the benefits of using bonded rubber mulch compared to the other bonded materials. Bonded rubber mulch has a quire real look. Before settling on bonded rubber mulch as your desired option, check on the benefits. They are as follows;
It is Safe and ADA Compliant
Bonded rubber mulch is the safest loose-fill material used for surfacing. It is also made from natural rubber terming it as safe for the environment. In playgrounds and recreational centers where children play, falling or getting hurt is inevitable. The bonded rubber mulch helps in protecting a fall from as high as 10 feet, making the surface secure and for play. Bonded rubber mulch meets the required American Standard Testing Methods making it safe
Due to its rubber nature, it is able to act as a great shock absorber. Bonded rubber mulch, Key West Safety Services provides a soft cushion and comfort to run, play and work on. It is ADA Compliant, easy movement for those with walkers, scooters, and wheelchairs. Always check on safety because this is the main priority.
The surface of the bonded rubber mulch is made in a way that is seamless and slip-resistant. Because of its unitary surface, it is a better playground surfacing component compared to the other unitary options. Bonded rubber mulch is soft, non-toxic, and breathable making it safe for both humans and animals. It does not get affected by the harsh weather conditions.
Highly Durable
Even with the high-foot traffic, mulch is able to withstand the force put on it and still not lose its original look. With the correct installation and materials, bonded rubber mulch has a long span compared to the other options like sand and gravel.
 Bonded rubber mulch does not rust, fade or lose its shape or texture, this helps it to expand its life span. Weather conditions cannot affect it; even after heavy rains, wind, snow, bonded rubber mulch maintains its texture and nature. Rubber naturally deters insects and bugs from breeding. During play, a walk, or run on the surface, the bonded rubber mulch cannot be displaced. It always stays intact the reason why it has the name bonded.
Aesthetic Design
Bonded rubber mulch comes in a wide range of designs and colors, from bright to solid, offering flexibility, especially in recreational playgrounds. Made from rubber, it provides a more natural look and since it is made of mulch, the pieces can be easily dyed. This comes in handy because you are able to get your desired color. This is a great option for those who prefer a natural look.
Lifetime Costs
Bonded rubber mulch requires minimal maintenance and has a lifelong span. Neither does it decompose or lose its natural state. Installing bonded rubber mulch is not costly compared to the other unitary surfacing options. Maintaining it too, will not be expensive because the mulch does not require raking or extensive cleaning.
Maintenance and Care
All loose-fill surfacing materials like bonded rubber mulch need to be frequently inspected because they may sometimes be found outside of the playground. It needs to be raked and inspected in case there are hidden items on the ground. Bonded rubber mulch has to be leveled once in a while so that the fall-in depth may be standard and safe to the children. It does not cost much when maintaining a bonded rubber mulch surface.
Cleanliness
Bonded rubber mulch is clean but can stick in between shoes and on clothes too, it has no effect on your skin. Unlike wood materials which can be eaten by insects or get affected by wet conditions, bonded rubber mulch does not decompose. You may need to create a barrier around mulch pieces for them to be mostly found in one place.
The dye used in coloring the rubber mulch is carefully made and designed in a way that does not transfer to clothes and shoes. Bonded rubber mulch does not emit any gas, it is clean and safe for the environment.
The Cost and Labor
The labor required to prepare bonded rubber mulch is minimal. Depending on the color choices, the current situation of the surface, the location and the depth of the fall height, and a few other factors, the cost of installing it may vary. But always get the right quotation from a professional.
Drainage
Bonded rubber mulch has another big advantage when it comes to displacement and compacting: it hardly ever thickens. It also gets denser than wood mulch making it less likely to blow or wash away in inclement weather. Bonded rubber mulch does not necessarily maintain moisture in terms of drainage; however, proper drainage under the play area must be ensured.
You would want to consider factors like your budget, location, manufactures, climate, and product availability. Professionalism too is a key factor. Bonded rubber mulch is not the only rubber surfacing for the playgrounds. Key West Safety Services, Florida offers bonded rubber mulch services. You can be sure of getting the best solutions from us when you entrust us with your project.
Below is our list of additional services: