Best Bonded Rubber Installation Services in Key West, FL

This is an alternative to the traditional poured rubber surfaces. This is a popular choice for recreational surfaces and playgrounds. Bonded rubber provides a similar or rather highly accessible surface that is one piece but uses larger particles. It is mostly poured in a system that is one-layered, giving an exceptional spontaneous look, especially for your outdoor facility. It is one of the top services that you will get from Key West Safety Surfacing.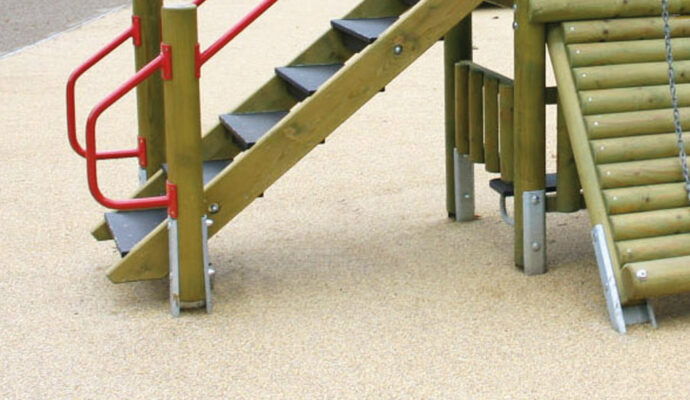 Compared to the other unitary surfaces, bonded rubber is the best because it is safe. Rubber is mostly made from natural products; it lets the surface meet both height and critical fall properties. It is also known for its good absorption impact. No matter how it is stretched, it instantly retains its natural shape.
Bonded Rubber is the same as poured-in-place rubber surfacing but the difference is with the particles. Bonded rubber has larger ones. It gives room to a number of designs and is mainly used in pathways and playground surfacing. It has mulch-like pieces that can be easily dyed to give you your desired color. There are facilities that go for this look because it is easy to maintain and gives a more natural look. Below are the benefits of using bonded rubber:
It is Accessible and ADA-Compliant
The rubber surface complies with the ADA requirements for the disabled: people with wheelchairs, walkers, scooters find it easier to maneuver around. Yes, it is accessible, but it may also cause mobility problems because the wheelchairs may get stuck in between the rubber tiles. It is mostly not leveled too.
Can be Easily Maintained and Cared for
Unlike other loose-fill materials, bonded rubber is easier to take care of since the materials are bonded. They do not move while in use, hence it does not need to be raked so that it may be in place. A bonded rubber surface is most likely the easiest playground to maintain, just a little jet vacuuming and you are done.
It is clean
Bonded rubber overall is a clean surface made from purely natural products. Due to its clean and well drainage properties, bonded rubber cannot support the growth of microorganisms like bacteria or mold. It does not hide objects, everything on the ground is easily accessible for you to note. Therefore, there are fewer accidents when dealing with this kind of surfacing.
During the rains, it easily drains the water, making the surfaces smooth for movement because there is usually no mud. This way, you will be comfortable and sure of dry and clean shoes or rather clothes for children. The fun is not limited either because the surface has so much to offer. Bonded rubber cannot be thrown or blown away. It is intact and cannot be scattered on walkways hence no objects can get into one's eyes. If looking for a natural look for your pathways then this is then bonded rubber is the best option for you.
Installation cost
Key West Surfacing Services has well-trained professionals who come to do the installation process for you. Why do we offer and prefer professionalism? This is because of the manual methods involved and the extensive site preparation. Installation of bonded rubber needs a lot of care for the preparation of desired height, binding agent, and subsurface too.
It is easier to install. The process may last for a day or two depending on the number of professionals or the space to be worked on.  After the installation, to achieve an excellent bonded rubber surface, time is needed for it to dry before being used. The price will depend on the depth of the surface needed, the condition of the existing surface, the color, and even the cost of covering the required area. This you must agree on beforehand with your professionals. Bonded rubber is one of the lower-cost options for a surfacing material than any other coherent surface.
It is Safe
Bonded rubber is safe because rubber is made from natural products that are environmentally friendly. The rubber acts as an excellent shock absorber due to the nature of the rubber particles. The materials needed in making a standard surface make it better to easily protect a child from a 10-foot fall. There are fewer injuries. It is comfortable and soft hence making it easy and safe to run or walk on and easy movement for those with disabilities. It is easily accessible for the handicapped (those with scooters, wheelchairs). In the case of fallen items or objects on the surface, they are unlikely to get buried in the surface making them easily visible.
 Since bonded rubber is made from natural products, it has no chemicals or contaminants. With the high rise to allergies, it reduces the risk of getting skin allergies. Because of its unitary surface, it is a better playground surfacing component compared to the other ones. Bonded rubber is soft, non-toxic, breathable making it safe for both humans and animals.
With the correct installation and materials, bonded rubber has a lifelong span. Compared to the other options. It definitely may require a higher initial installation cost but the maintenance cost is very minimal. Rubber does not rust, fade or lose its shape or texture, this helps in the bonded rubber lifespan. Depending on the foot traffic, the rubber surfacing can last for a while. Weather conditions cannot affect it; even after heavy rains, wind, snow, bonded rubber will still be intact, good shape and its natural design.
Bonded rubber comes in a wide range of colors, from dark to lighter ones. This can help in easily choosing what you love or prefer. Colors can also be mixed to meet your desired taste. There are also countless designs for you to choose from when looking for bonded rubber flooring in Florida. The designs can solely be used in pathways and playgrounds. Bonded rubber is an amazing idea for those who prefer a more natural look that can also be maintained minimally.
Always go through and agree on the quotation of the space needed to be covered by bonded rubber with your professionals. Make your pathways, gardens, and even playgrounds beautifully outstanding in your location. For more information, visit our page, Key West Safety Services for the best, professional and affordable services.
Below is our list of additional services: